Project Canterbury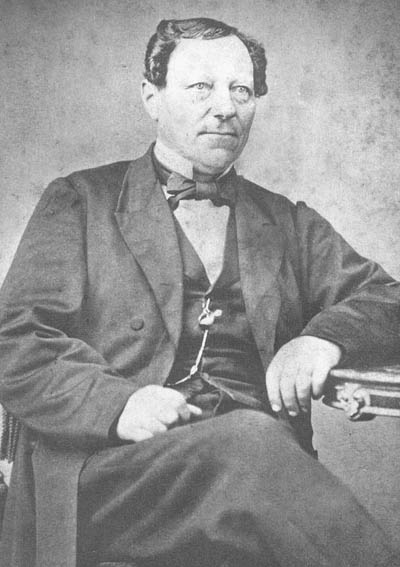 Gustaf Elias Unonius
1810-1902
First graduate of Nashotah House
Born on August 25, 1810 in Helsingfors (then Russian Finland), Unonius immigrated with his family to Sweden when he was a boy. He in turn immigrated to the United States in 1841, eventually settling at Nya Upsala (Pine Lake), Wisconsin. Unonius was the first graduate of Nashotah House Theological Seminary. Bishop Jackson Kemper ordained him to the Diaconate on May 14, 1845, and he was subsequently advanced to the priesthood. He served a number of parishes in eastern Wisconsin and Illinois, and was founding rector of the Swedish Episcopal Church of Saint Ansgarius, Chicago. He returned to Sweden in 1858 and died on October 14, 1902.

Unonius' letters to Swedish, Danish and Finnish newspapers about pioneer life in America sparked a large wave of immigration by Scandinavians to the Midwest.
Works by Unonius
Haandbog for den Hell. allmindelige Kirkes Bekjendere (1846).

Reply to "A Letter of Bp. Chase to the Members of the PEC" (1851)

Minnen från en sjuttonårig vistelse i Nordvestra Amerika (Upsala, 1861-1862).

Bihang till Minnen från en sjuttonårig vistelse i Nordvestra Amerika (Stockholm, 1896).

A Pioneer in Northwest America 1841-1858
The Memoirs of Gustaf Unonius. Translated from the Swedish by Jonas Oscar Backlund, Edited by Nils William Olsson.
Published for the Swedish Pioneer Historical Society by the University of Minnesota Press, 1960. Reproduced with permission.
Unonius also appears frequently in the pages of Schetky's journals of life at Nashotah in the late 1840s:
Recollections of Nashotah and Its Vicinity, Being Extracts from the Diary of One of the Alumni
By the Rev. G. P. Schetky, D.D. Class of 1851
---
Project Canterbury