VOL. 1          NASHOTAH HOUSE, FEBRUARY, 1884.          NO. 3
---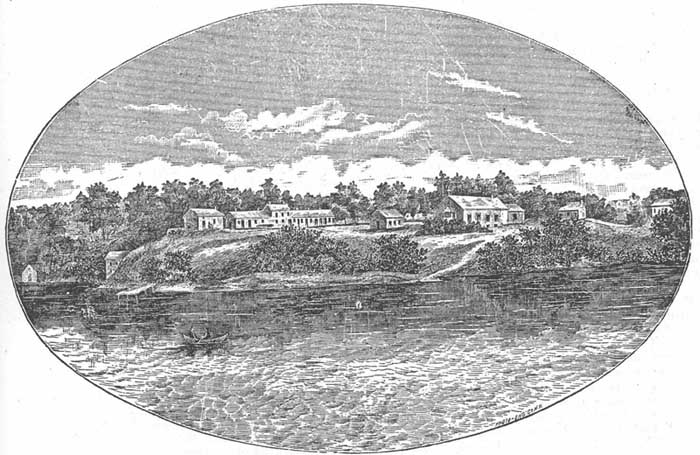 Nashotah as in 1843-44.
Boat House. Rooms. Blue House. Dining Room. Lazarus Row. Old Library. Old Chapel. Carpenter Shop. Frame House.
Extracts From Bishop Kemper's Diary in Regard to Beginnings of Nashotah.
(CONTINUED)
Bishop Kemper spent the winter of 1843-44 in St. Louis, only going for a few weeks in January, '44, to Indiana for Episcopal duties. During the winter he received letters from Nashotah informing him that owing to a severe attack of pneumonia, the Rev. Wm. Adams had decided to leave the West and return to New York, which he accordingly did early in April, and become for two years the assistant of the Rev. Charles Seabury at Setauket, Long Island. The Rev. Mr. Hobart on his return the fall before, had given notice that he would retire in a year's time. After Mr. Adams left, the Rev. Mr. Walsh, of the class of '42, Gen. , Theo. Seminary, who had been officiating at Racine and Southport (Kenosha) came to Nashotah as a temporary assistant in the Mission services and in teaching the students who were now with them.

In June the Bishop was at the East; attended the Commencement of the Gen. Theo. Seminary and the meeting of the Board; he remained East for several weeks, making the most strenuous efforts to induce two or more young clergymen to join Nashotah. Many now prominent men in the Church thought long and seriously of doing so, but duty seemed to point elsewhere. He was also most indefatigable in raising money, and students, visiting for that purpose Boston, Baltimore, Connecticut, and the State of New York.

During this year offers had been made by the Hon. Charles Murray, who owned large tracts of land in the West, to donate a considerable tract for Church purposes. The Bishop in August while on a visitation up the Mississippi visited the site, near Lancaster, and was met by Rev. Mr. Hobart who persuaded him to return with him to Nashotah. On the 8th of Sept., '4:3, he writes: "At Nashotah Lakes about 3; long talks and sat up late." Sept. 9:-The Missionaries building another house, kitchen, etc.; the spot very beautiful. Respected by all the neighbours; long talks with Walsh and with Breck. I consent to go to the East as soon as possible to obtain one or more men for the Nashotah Mission. Breck states that $160.60, with the order for $100 which I have given, will enable them to finish all the buildings they have under way.

"Sept, 10th.--A student from Troy, N. Y., is here, but Mr. James Weaver's son has left, his father wanting him. The students are now six. (Of these two are still working in the diocese, the Rev. David Keene, D. D., Rector for over 30 years of St. John's Church, Milwaukee, and the Rev. L. D. Brainard, Rector of St. Paul's, Ashippun). Everything is exceedingly nice and neat. There will soon be preparations for me, 5 clergymen and 20 students." The Bishop had promised to spend the next winter with them. "With 2 of the students we started in the wagon; 13 miles to Prairieville (Waukesha); the church so far finished that we worshipped in it; well filled; confirmed 6; 35 communicants; some from Lisbon and Summit; staid that night at Mr. Ormsby's. Sept. 11th.--Breck and I started after breakfast; thinks Mr. Walsh would not wish to stay longer than spring and that the state of the Mission is of sufficient importance to authorize my going to the East. Kindly received by Mr. Hull's family; called on some of the vestry. The Missouri arrived by 8; very crowded; high winds; slept on sofa."

Extract of letter to Rev. J. L. Breck: "Our expectations will yet be realized. The Swede can obtain orders. GOD forbid I should change the Daily Service and Weekly Eucharist! No hopes from students of Seminary; no cause for despondency; many highly approve; perhaps the plan must be modified and the original design approached gradually. Having confidence in your goodness and devotion I will sustain you."

Jan. 13th.--Bishop arrived in Milwaukee; met there the Rev. Mr. Akerly, of Green Bay, and Rev. Mr. Davis, of Duck Creek; on the 15th went with them to Nashotah.

Jan. 18th.--"Bright, cold morning; Eucharist at 9. At noon 7 Swedes called, intelligent looking men. Mr. Peterson made a good speech in English and handed me a letter in English and Swedish; having read it I replied that I received their application; that I would aid them to the extent of my abilities; would receive Mr. Unonius as a candidate. I proposed Confirmation as the rite by which they should join our Church. They promised to think of it. In Sweden Priests confirm, and only by blessing, not by putting on of hands. They all dined with us; had roast beef and ham, boiled rice afterwards; a study to myself.

"Jan. 21st.--Off soon after breakfast with Walsh, Akerly and four of the students; 14 miles to Prairieville. I admitted Walsh to Priest's orders after dinner at Lockwood's; Breck and I in a cutter to Lisbon. Breck says Nashotah never would have been commenced but for the peculiar service used by them in the Seminary, and now their noon office; it was prepared, he says, by--------, with approbation of Prof. Whittingham. Tea at James Weaver's; service in the school house; crowded like the church in the morning, to overflowing. At neither place could all sit; administered Holy Communion to 18; 40 odd in morning; here there are about 30 communicants. James Weaver's father here and 30 grandchildren, all from the neighbourhood of Hastings in Sussex, England.

"Jan. 22d.--Started for Green Bay with Mr. Akerly and Mr. Davis. Jan. 28th.-Admitted Mr. Akerly to Priest's Orders in Christ Church, Green Bay, of which he was Rector." Feb. 9th.--The Bishop returned to Nashotah, bringing with him two Indian students to be educated there, from the Oneida reservation at Duck Creek. Mr. and Mrs. Davis also came with them. "Left Mrs. Davis at Mrs. Parsons, Summit; at Nashotah soon after 12; L. sick in bed and the cooking deranged. B. went after Mrs. Davis and brought her to prayers and tea.

"Feb. 11th.--Fine morning; turned out of my bed room by the heat of the stove; attended early service; Mr. and Mrs. Davis here; he read prayers at first service and he preached at the second service and assisted me in the Holy Communion; the church quite full in the morning." This is their first Church at Na-shotah, which now stands, though removed from its first site, back of the chapel and is used as Dr. Adams' recitation room, etc. "Breck returned from his services and we started for Oconomowoc, where I preached to a full house; many endeavoured to unite in the service. Mr. Davis and wife there; we bade them farewell as they return home to-morrow. "Feb. 12th.-Bingham, the student from Canandaigua, arrived, not a little fagged by the journey. We dined to-day at Fribert's with Breck. Walsh, Unonius and the two Danes from Milwaukee, Peterson and Gasman. Mrs. Unonius lives here with her little boy; F's. family not yet having come over. F. has promised to go with Breck to visit the Prussians; he is a mun of some knowledge and wit; has a beautiful location on Pine Lake. Young Wheelock arrived to-day, as a student, son of a most respectable Methodist minister.

"Feb. 13th.--Walsh informed me of his intention to return home in May; realizes the importance of the Mission as a school; thinks Adams will return.

"Feb. 16th.--Mr. Breck returned from Southport and brought Mr. Irish, an additional student."

Extract of a letter of the Bishop's to a clergyman at the East: "I lost three missionaries last year and this Territory gained 70,000 inhabitants. The Theological department of Nashotah is of the first importance; clergymen will not come to us from the East; present position of Nashotah; prospects with respect to the Swedes; hopes of Prussians. If it is fostered for a few years it will become a Propaganda not only for the West but even for our foreign stations.
---
Personals.
WE EARNESTLY REQUEST ITEMS FOR THIS COLUMN FROM
ALL FRIENDS OR FORMER MEMBERS OF
THE INSTITUTION.
Dr. Adams received a letter from Rev. Mr. Unonius, '45, dated Grisselham, Dec. 29, 1883. He allows us to give this extract:

"In mentioning Bishop Kemper, my thoughts wander back to Nashotah, and my time there and all its associations. Of all that I have just, these days, been most interestingly reminded by reading the Life of Rev. J. Lloyd Breck, which I have read as almost a book of devotion.

My son sent it to me as a Christmas gift, and he could hardly have sent me a more welcome one."

'58. The SCHOLIAST recently received a very pleasant letter from Rev. W. H. Stoy, San Rafael, California.

'61. We are indebted to Rev. L. P. Tschiffely, Louisville, Ky., for kindly and active interest in our effort.

'72. Rev. B. A. Brown, late of Methuen. Mass., has declined a call to Philadelphia.

'72. Rev. G. W. Harrod, of St. Luke's, Baltimore, has recently declined a call to St. John's. Kalamuzoo, Mich.

'74. A recent visit to St. Luke's, Ypsilante. Mich., Rev. T. W. McLean, rector, showed a very prosperous state of things. The church had just been repaired outside at a cost of $1200, a furnace placed within, and several other minor improvements.

'80. Rev. W. A. M. Breck writes as well pleased with his home on the far-away Pacific. Thoughts of the fruit, which he describes, are apt to render one a little envious.

'84. Mr. L. H. Schubert writes from Mt. Pleasant, Shelly Bay, Bermuda, that the weather is delightful, and that he feels quite well. ''Climate quite variable. Mercury was yesterday 48, to-day, 68. It rains very frequently."
---
For THE SCHOLIAST:
I see in your last number, among other things, "Anecdotes." I remember going with two newly arrived students to call on good Bishop Kemper. We met him on the road, and I proceeded to introduce them. "Bishop," said I, "allow me to introduce two of our new students. Mr. Dafter." "Dafter," said the Bishop, "how do you spell it?" That gentleman proceeded to give the orthography of his name. "Oh! that is very simple," replied the Bishop. Then I introduced the other, Mr. Tschiffely. "Mr. Tschiffely," said the Bishop, "how do you spell it?" He began: "T-s-c-h-i-ff--" "Tut. tut, tut, that will do," said the Bishop.   H.
---
THE NASHOTAH SCHOLIAST,
PUBLISHED BY
THE BISHOP WELLES BROTHERHOOD,
Monthly, during the Seminary Year.
ENDORSED BY THE FACULTY OF NASHOTAH.
E.S. WELLES, Editor in Chief.    J.H. SELLERS, Business Manager.
TERMS.
Fifty cents, in advance, for volume of eight numbers. Single copies, five cents to subscribers; otherwise, ten cents. Special arrangements made for extra copies. Money orders or cheques to be sent on Oconomowoc, Wis. Please do not send stamps, if avoidable. Address on business, etc., Editor of the Nashotah Scholiast, Nashotah, Waukesha Co., Wisconsin.

Entered at Nashotah P. O., Wis., as second class matter. Printed by BURLESON BROS., SUSSEX, Wis.
---
AS has been aptly remarked "Tempus does fugit" in the most unaccountable way. It seems but yesterday that we, of the Brotherhood, collected in the "Junior" room, were wondering how to do our little for old Nashotah and here in a few short weeks we are in full swing sending broadcast a thousand copies of the SCHOLIAST.

In the hope of increasing the circulation still more, the Business Manager has made a proposition, which hereby becomes general: Agents may hereafter retain one-half of the subscription price for clubs of six or more copies of the NASHOTAH SCHOLIAST. All subscriptions are for this volume.

Now, dear reader, we are easily satisfied, but there is one thing on which we have set our editorial heart--enlargement. Only one who has had experience can realize the extreme uneasiness of our situation at present; the patience of a maltreated contributor does have an end and, be he poet or proser, he puts us in a position from which you and you alone, dear unsubscribing reader, can rescue us.

The widow of the late Dr. Ewer, in a letter to the editor, writes: "You mention desiring a copy of the sermons when published. If you would kindly do so through my address you would assist in increasing my list of subscribers for which I and my son became Somewhat responsible, and if you could send the names and addresses of others the order will be promptly attended to as soon as the book is out. The price of the book will not be over $2.00, and perhaps only $1.75. That was what was first decided upon, but afterwards the Youngs said we could not tell exactly, there are so many odds to consider. Should you have occasion to send any list of names and addresses, direct them to

MR. WM. B. EWER,
152 W. 46th St., New York City."
---
Nashotah Close and Chapel.
--The Rev. R. H. Weller assisted the Bishop at the confirmation at St. Mary's.

--The Misses Morris have been visiting their sister, Mrs. Ward. A few of the students recently enjoyed a social at the Cottage.

--Prof. T. M. Riley delivered a lecture at Kenosha, Saturday evening, the 9th, on "The Duties of Mothers, Wives and Sisters."

--A "retreat" for the Clergy of the Diocese beginning on the 19th was held in the Chapel. Rev. Father Prescott acted as conductor.

--The Bishop made a visitation to St. Mary's Mission on Sunday the 3d inst. The Rt. Rev. Father spent the evening at the Seminary.

--Rev. Prof. Riley has resumed his pastorals. A recent one on "Definite Opinions" elicited most favorable comment from the students.

--Amid the distractions consequent on the extraction of Hebrew roots, the Junior class none the less had time to celebrate the "natal day" of one of their number. Many happy returns.

--We were quite surprised a few days back to find the profs, assembled in the dining hall for a "faculty dinner"(?) What departments in theology do the numerous ladies assembled on that occasion, preside over?

--Immediately after the arrival of the news of the burning of the Cathedral of Fond du Lac the students met and appointed a committee consisting of Williams, '84, Stanley, '85, and Smythe, '86, to draft suitable resolutions. The Rt. Rev. Father sent an immediate reply conveying his thanks.

--Dr. Cole is in Baltimore. (Elsewhere will be seen excerpts from his "Letter.") The editor recently received a letter from Mrs. Cole dated Raleigh, N. C. She says that she and Miss Mary "are most comfortably situated in this queer old city and are enjoying a respite from the cold of a Wisconsin winter."

--The SCHOLIAST feels that it speaks for all in saying that we deeply regret Dr. S. B. Sperry's departure, for more reasons than one. As a physician, and as a man, he was universally respected. A hearty God-speed for him in his new field, New Tacoma, W. T. "Ring out the old, ring in the new"; so to Dr. Pfaff, we extend our editorial hand in behalf of the community and welcome him into our midst.

--Among a number of letters received from indulgent and encouraging friends we print this:

"Behold the 'SCHOLIAST' we view!
And send congratulations true,
Most worthy editor, to you.

Yours is a project bold and good,
One worthy of the 'Brotherhood.'
We know 'twill prosper for it should.

Both our subscriptions now we pay;
So send M. J. and S. P. K.
Your paper:--for its weal we pray."

--This will explain itself.
ADDINGTON PARK, CROYDON,
Jan. 4,1884.

My dear Sir:

I am directed by the Archbishop of Canterbury, to thank you for your letter of Dec. 7th, and the accompanying copy of the "NASHOTAH SCHOLIAST." His Grace feels sure he need not assure you of the lively interest which he takes in the work of the American Church, and how cordially he reciprocates the kind wishes and hopes which you, like so many others, have sent him. He will look into the "SCHOLIAST" with much pleasure.

I remain, Yours faithfully,

MONTAGUE FOWLER, Chaplain.

E. S. Welles, Esq.

--From an original poem of some length we give the final verses as containing much that is beautiful. The title is:
PEACE, BE STILL.
Behold He rises to His feet--
    He chides them for their fear,
And calmly to the angry deep,
    "Peace, be still!" They hear Him speak

In accents mild and clear.
    Then restless waves their ragings cease,
And winds are hushed, and all is peace!

Oh, Mighty Voice whose power can quell,
    The restless, raging, angry sea,
Saviour and Friend, Emmanuel,
    What tongue can e'er Thy greatness tell,
What eye Thy glory see?
    Oh heart! may He thy pattern be
In boundless love and charity. H.
---
Church Schools and Colleges.
It is intended to render this section of The Scholiast valuable by publishing "budgets" from St. Augustine's, Canterbury, and all the theological schools in the land which are in communion with the Church. By issuing each month letters from some one of our Seminaries it will be happily practicable to get a general knowledge, and interest in all our institutions. Indeed, one can readily imagine the good resulting from a realization of our earnest wish in this matter. We anticipate kindly co-operation in our endeavor.

GEN. THEO. SEMINARY.--The Seymour Prize for extempore preaching was contended for on Saturday, Jan. 19. There were 16 contestants. The successful competitor was Mr. James B. Nies, Columbia, '82, a member of the middle class.

Sherred Hall was dedicated on the Feast of the Conversion of St. Paul. Holy Communion was celebrated in the Seminary Chapel at 11 A. M., the Assistant Bishop of New York acting as celebrant. The dedication service proper followed, being held in Sherred Hall. Bishop Potter conducted the ceremony, and addresses were made by the Assistant Bishop of New York, the Bishops of Springfield, Ill., and New Jersey

The new Hall, named after a benefactor of the Seminary long since passed into his rest contains six large lecture rooms, each of which has a seating capacity of 150 persons. The building is of brick ornamented with stone finished inside with polished brick and hare wood throughout. It is expected that the new Library and a new Hall which are much needed to supply rooms for the students, will soon be commenced. C. A. J.

RACINE COLLEGE.--At a recent meeting of the Trustees the Rev. F. H. Bigelow (for the past three years engaged in the U. S. Observatory, at Cordova, Argentine Rep.) was called to the chair of Mathematics and has accepted. Mr. Alexander Mitchell, of Milwaukee, Mr. Geo. A. Armour, of Chicago, and Mr. Percival Fuller, of Racine, were elected Trustees.
---
Extracts from Dr. Cole's Letter.
To the Clergy and the Laity of the Protestant Episcopal Church:

DEAR BRETHREN:--We solicit your active interest in an effort that belongs to the whole Church. The great need of the Church now, is men to do her Missionary work. It has been an increasing need for years as the fields at home and abroad have opened before her. No small part of the limited supply has come from Nashotah. Her graduates, and those of her students ordained before graduating, number more than 250. They are found in every part of the Domestic Missionary Field. Six have been in Foreign Fields--one in Havana-- one in Africa--four in Japan. All but two (and those in Japan) have been sent home by illness after doing a good work.

One of the graduates of Nashotah is the Assistant Bishop of Mississippi.

Nashotah that has by the Lord's blessing done so much for the Church, calls, brethren, for your instant and efficient help. Her entreaty is two-fold--for the present and for the future.

For the present, Nashotah needs offerings for the daily expenses. The daily mail until very recently has been the entire dependence. There is no other source-now for meeting four-fifths of the necessary expenditure.

There are now Fourteen Candidates for Holy Orders preparing for Ordination. Their board and tuition call for offerings.

Needful repairs have been made upon the buildings, which can be paid for only by offerings. . .

If every one who reads this appeal will send something, there need be no embarrassment. Let this be done, whatever be the response to the entreaty for the future.

The friends, whose hearts were first drawn to Nashotah by the Rev. Dr. Breck, are daily becoming fewer in number. Other worthy and important objects claim the liberality of the Church. At first Nashotah was almost the only object of peculiar interest. It was not long before Nashotah was one of ten very similar solicitors for the gifts of the people. As the years passed by, Nashotah had her place with a hundred dependents. Now, her voice is almost lost while, with a thousand beside her, she reminds the faithful that "it is more blessed to give than to receive."
WHAT IS THE ONLY REMEDY?
The adding of $200,000 as soon as possible to the $55,000 now at interest. This will make Nashotah permanent, place her beyond all peril and withdraw her from the crowd, the increasing crowd, continually asking for "more" "more."

Beside the $55,000 at interest, there is another $50,000 secured by bequest of Judge Howe late of Lima, Indiana, available only when Nashotah has $450,000 (including the interest that may accrue meanwhile from the $50,000.)

Nashotah has now land and permanent building valued at $100,000, has an excellent and valuable Library of 8,000 volumes, has rooms for thirty students--can easily shelter forty if required to do so.

Nashotah has a full Faculty, an approved course of study and is in successful operation. It is not a new enterprise but has the experience of more than thirty years of good results.

Nashotah perpetuates the memory of the great Missionary of the Church, the Rev. Dr. Breck, and also the blessed memory of the first Missionary Bishop of the Church in the United States, the venerable Bishop Kemper, who watched over the good work until his death in 1870, and who now sleeps in Nashotah Cemetery awaiting the resurrection of the just.

Nashotah by her graduates has added more than 200 to the number of consecrated Churches in the land.

Nashotah in 1859 placed the Rev. Dr. de Koven in Racine College with 30 students, and upheld him by paying as needed $40,000 in all, to continue while weak that now great Institution.

Surely every Clergyman and every Layman who reads this appeal, will hasten to do all in his power to perpetuate an Institution so blessed to the Church and to the country. It is not a large amount that is needed to make Nashotah permanent. It would be an incalculable loss to have it otherwise.

A. D. COLE,
President of Nashotah House.
Nashotah, Wis., Jan., 1884.
---
Rev. Mr. G------, '53, while at Portage, Wis., was annoyed by the manner in which a spirit medium was upsetting some of his parishioners and other sober townspeople. When the Senior Warden came to him in a perturbed state of mind, to tell of the wonderful things being done, Mr. G------resolved to test, and if possible, expose the medium. When told that he could call up any one who had died, he asked to have Homer. The proprietor soon informed him, that through the medium, the old poet was at his service.

"That's you, is it Homer? Well, I have been, wanting to ask you about the accentuation and correct wording of the first two lines of the Iliad!" Perhaps it was requiring a. good deal of the old gentleman's memory; be that as it may, the medium was thoroughly discomfited and after giving the imposters a good scolding, Mr. G------returned with a satisfied Warden.
---
Book Notices and Reviews.

MEMORIAL VOLUME OF THE REV. F. C. EWER, S. T. D.

Messrs. E. and J. B. Young & Co., will issue in February a Memorial Volume of Sermons by the late Rev. F. C. Ewer, S. T. D.

It will contain, among others, the sermon Dr. Ewer was preaching when prostrated by his last illness, and the one he intended to preach on the evening of the same day, had his health been spared.

The sermons published by Dr. Ewer have led many to believe that he was merely a controversialist, but the forthcoming volume will show that his most powerful sermons were free from any thing controversial.

The book also contains a Memoir by Charles T. Congdon, and is the most complete account of Dr. Ewer's life which has yet been published, and an introduction by the Rt. Rev. Geo. F. Seymour, D.D., in which he dwells at length upon the "Failure of Protestantism," the discussion of which subject was the means of making Dr. Ewer a power in the Church.

Dr. Adams handed us the book "Apostolical Succession in the Church of Sweden" by Dr. Nicholson of Leamington, Eng., which has a special interest in connection with the part of "Diary" in this issue. It is a neatly printed book (Rivington's) of 60 pages, and would undoubtedly prove valuable to one who wishes to pursue this interesting history of the Swedish Church.

We have read in the best Church papers of our country and England some very favorable notices of Bishop McLaren's "Catholic Dogma the Antidote to Doubt." We hope to have the book soon.
---
THE following, told in Bishop Whipple's wonderful way, has a mighty moral. When he entered York Minster for the first time he stood rapt in silence, overcome by the grand interior. Suddenly he was brought to himself by a typical American, of whose presence he had not been aware, and was accosted with a "Wall, stranger! thare's one thing purty certain; the men what put up this here, didn't build stone houses for theirsel's and bass-wood houses for their GOD! did they?"
---
Acknowledgements.
The undersigned gratefully acknowledges, in behalf of Nashotah Mission, the following offerings during the month of January, 1884:

FOR DAILY BREAD.--Mrs. J. P. Brock, $100. Geo. B., $5. M. Waters, $2. Two friends, Princess Anne, Md., $1. S. S., St. James', Kingspring, Philadelphia, $96.78. St. John's, Johnston, N. Y., $18. In memory of F. A. S., 82. S. S. children, St. Paul's, Baltimore, $53.44. M. de la Cuesta, $5. Cash, $10. Cash, 820. Fred. Hubbard, $250. A. Biddle, $25. Mrs. W. $3. Christmas offering, Mrs. Geo. G. Carter's Class Transfiguration, New York, $13. Mrs. G. F. Bingham, $10. Charlotte Wickham Hay ward (now in Paradise) $1. Mi's. E. S. Hunter, $5. Offertory, St. Mark's, Philadelphia, $10. Cash, $5. E..&5. A Christinas offering from mother and daughter, $40. Friends of Xashotah in Trinity Parish, Kew Haven, $25. Mrs. Taitt, $5. Cash, $5. H., $2. S. V. Hack, $3. Thomas A. Biddle, $25. Cash, $5. Mrs. A. E. Hawley, $25. S. E., $5. Falkington Memorial Church, $20. Offertory, St. Mark's, Philadelphia, 820. Mrs. J. Lucas, $5. Mrs. Helmuth, St. Mark's, Philadelphia, $25. "An Old Friend," $5. "In memory of a beloved daughter," $5. For E. I. G., $5. Cash, $5. S. S. Christ, Obsrlin, O., $2.45. A member of the. Free Church of St. Barnabas, Baltimore, 85. J. H. Brazier, $5. J. S. Warner, $1. Estate of Charlotte Sheaf, $34. Parishioner of St. Ann's N. Y., per offertory, Jan. 21,1884, $6. "W. and Teady," Steuben Co., N. Y., $5. Mrs. A. O. Provost, $5. Miss Keeves, $5. Mrs. D., $1. Miss E. F. Whearton, $5. Cash $2. S. S. Class, Miss Carrie M. Blunt, $7. Mrs. A. L. Eastman, $10. A Churchwoman's mite, $5. Mrs. S. A. Paine, $10. Esra Bowen, $20.

FOR PERMANENT FUND.--Rev. Luther Pardee, $10. Rev. W. M. Steel, $20.59.

FOR SALARIES.--Rev. W. M. Steel, $4.41.

The undersigned has the pleasure of announcing that $2,000 has been subscribed in Philadelphia for the Endowment. If all will assist the $200,000 can be subscribed before June 1,1884.

A. D. COLE, President of Nashotah Mission. Nashotah, Waukesha Co, Wis., Feb. 4, 1884.
---
NASHOTAH HOUSE.
A Theological School founded in 1841 by the Rev. Messrs. Breck, Adams and Hobart under the patronage of the Rt. Rev. Dr. Kemper, first Missionary Bishop of the American Church.

The Child of faith, it seeks to educate its Students in the power and life and works of Faith. Its Professors and Students are still, as they have been since its foundations, "pauperes Christi." They are still dependent as they must be until endowments shall be secured, upon the benefactions of the Faithful.

Faculty.--Rt. Rev. E. R. WELLES, S. T. D. Rev. A. D. COLE, D. D., President, Pastor, and Peter Hubble Professor of Pastoral Theology. Rev. WM. ADAMS, D.D., Professor of Systematic Divinity. Rev. LEWIS A. KEMPER, D. D., Professor of Exegesis, Biblical Literature and Hebrew. Rev. T. M. RILEY, M. A., Professor of Ecclesiastical History.

Mr. Richard Humphrey, Curator.

All communications should be addressed to the President.
---
RACINE COLLEGE.
SCHOOL OF LETTERS & SCHOOL OF SCIENCE,
Course Four Years. Preparatory Course in Grammar School, Six Years.
A School where the son of every Churchman in the Northwest should be educated.

A School whose aim is to carry into practice the words of its great first Warden, James deKoven:
"Work hard, Play hard, Pray hard."
For catalogues, dates of entrance examinations, and all information, apply to REV. DR. GRAY, Warden.
---
ST. MARY'S SCHOOL,
KNOXVILLE, ILLINOIS.
AN INSTITUTION OF THE
Province of Illinois.
Founded, 1868; Enlarged, 1872 and 1880; Destroyed by Fire, 1883. Re-built and Re-furnished, 1883.
VISITORS: The Bishops of the Province.
Rev. C. W. LEFFINGWELL, D. D., Rector.
---
THE
Nebraska Diocesan Schools.
FOR GIRLS.
BROWNELL HALL, OMAHA.
Rev. R. DOHERTY, Rector.
FOR BOYS.
NEBRASKA COLLEGE,
NEBRASKA CITY.
Rev. Dr. McNAMARA, President.

For Circulars and Terms, address as above.
---
ESTABLISHED A. D., 1870.
THE YOUNG CHURCHMAN.
A PAPER FOR THE SUNDAY SCHOOL AND THE FAMILY. ILLUSTRATED.
TERMS: Weekly--Single Subscription, per year, 80 cents. In quantities to Sunday Schools, at the rate per copy, per year of 54 cents. Monthly--In quantities, per copy, per year, 16 1/2 cents.
THE SHEPHERD'S ARMS.
A Handsomely illustrated Paper for Youngest Readers. No Single Subscriptions. Mailed in Quantities only, for Sunday Schools.

TERMS: Weekly--Per copy, per year, 30 cents. Monthly--Per copy, per year, 10 cents. Send for specimen copies of both papers to

THE YOUNG CHURCHMAN, Milwaukee, Wis.
---
Project Canterbury