VOL. 1          NASHOTAH HOUSE, APRIL, 1884.          NO. 5.
---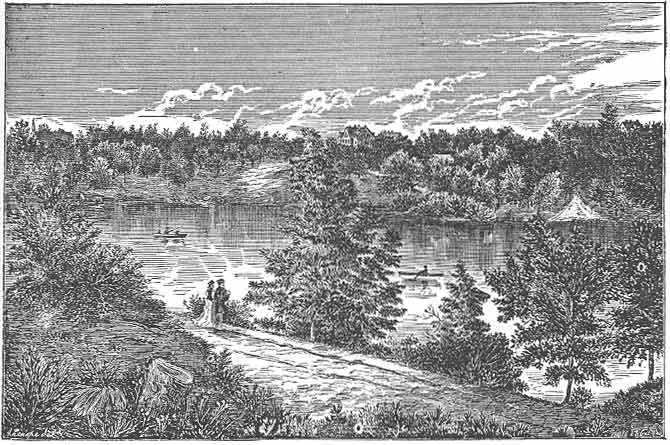 Nashotah as at Present
Extracts From Bishop Kemper's Letters in Regard to Beginnings of Nashotah.
(CONTINUED)
July 13th, 1844. The Bishop unexpectedly paid a few days visit to Nashotah. "My last informed you of our arrival at Milwaukee and finding Taft, one of the students, waiting for us. We started at 10 and found the roads yet bad but improving, and by 8 we arrived here and were cordially received. M. and S, had a bed together and for it they had a mosquito bar; for the truth is not to be disguised that those little insects abound at Nashotah. This bed was prepared for me and a bar had been expressly made for-----, being the second one on the ground. Breck and I sat up till a late hour, and the next day I preached twice and lectured once; administered the Eucharist and celebrated all the daily services except the lessons, which were read by Breck. The morning congregation was quite full, some of the Swedes being present. Great preparations are making for the visit to the Oneidas; a most excellent tent is all ready, under which more than 20 can sleep with comfort. They will carry their own provisions, sleep on buffalo robes, etc., and take six days for the journey. I saw many improvements and there is room for many more. The institution must evidently be the work of years, but happily while growing it is doing good daily. You will be amused to learn that internal improvements are going on. Now we make the best of bread and crackers, and we have it seriously in contemplation to do our own washing; the proposal has come from one of the students. One point of long deliberation was how to act in reference to the pupils which are pressed upon us, and we finally determined to take six who should work with the rest, find their own books, bedding, etc., and be charged $50 per annum. One had come from Indiana, another was expected from Pennsylvania, and several were pressing in from the Territory, Mr. Breck brought me in on Monday. We were up early and soon after 5, with every prospect of rain, were ready to start in the Mission wagon. The students were around us, holding the horses, putting in seats, buffalo robes, etc., and shaking hands, while Mr. Breck was giving innumerable directions. I found Dr. Potter of Union College had spent Sunday in Milwaukee, and had preached both morning and night.

"Monday afternoon, July 15th. I left Milwaukee in the boat on Tuesday morning and learned on my way that the church at Racine will be commenced immediately.
EXTRACTS FROM LETTERS, 1845.
"Southport, Kenosha, Feb. 14th. Arrived here in the stage Thursday night near 12; preached here twice yesterday. The congregations and the church have much improved; have an engagement to-night at Racine.

"Nashotah Lakes, Feb. 19th. I believe my last was closed at Southport. Mr. Hatch and I rode that afternoon ten miles through the rain to Racine, where I had a very good congregation at night. Last Thursday I rode up to Milwaukee with some gentlemen from Michigan City and was most kindly received. Mr. Akerly and Mr. Wall were on the lookout, and though Mr. Higby expected me, I was obliged to stay with Mr. Wall. The church is really beautiful, and next Thursday week, 27th, inst., I am to consecrate it. Mr. Breck, M. S., and I arrived here last evening in a sleigh. All things are improved and Adams is as able as ever; he brings on the boys well. This morning we attended to Unonius' first examination; it was very creditable. At the earnest request of several of the brothers, Mr. Breck established in December the daily Eucharist; its effects he thinks are admirable. In addition to this, which is quite voluntary, there is a meeting equally so, soon after 4 in the morning, (this was the Lenten season) when the penitential Psalms with the Ash Wednesday Collects are used. This day I have had the opportunity of attending six services; did attend five and officiated at four,

"Feb. 20th. Mr. Breck finds his academic department won't do under present circumstances. Boys without deep religious sensibility, and without looking to the ministry, will not work and study; it is soon to be broken up. I attended the 4 o'clock service this morning. First the lesser Litany, then four penitential psalms were read, B. reading the first half of a verse and the congregation the rest; the Litany; then was sung or said Hymn 56; then the three last penitential psalms as before, and then the collects for Ash Wednesday. We are now preparing for the 6 o'clock service. On Wednesday the whole family are going into Milwaukee to the consecration, and the day after I start on a visit to Sheboygan.

"Nashotah Lakes, March 3rd. My last, I believe, was closed the day before we started for the consecration of the church at Milwaukee. Mr. Breck, John Hull and I traveled in a wagon, with Mr. Denney and his horses. We met the rest at the Half-way House, (they having started very early, mostly on foot) where we all dined, and arrived in town before sunset. The roads were so bad that none of the clergy came to the consecration. The day, however, was fine; had a full congregation. I preached and Breck and Akerly read the service; all went off well. Mr. Akerly is growing more and more in favor. He is indefatigable in his exertions and is hunting up the lost sheep of the Churches of England and Norway in every direction. We anticipate much from Mr. Unonius; he is so devoted and able that we think he will be instrumental in bringing most of the Scandinavians into the Church. As he is soon to be ordained, (and I shall ordain him as soon as his testimonials arrive from Indianapolis,) Mr. Akerly intends to solicit him to spend a Sunday with him, in order to have him preach a sermon to the Norwegians. Mr. Breck has gone for me to Sheboygan, and I take his place here; he and M. started Friday morning and the rest returned to Nashotah. The congregation is so promising in Milwaukee that I hope we shall soon be able to commence a church at Kilbourn town. Yesterday I was at Lisbon, where, instead of a barn, I had a nice church, nearly finished, to officiate in.

"March 6th. Mr. Breck has returned; after riding a few miles out of Milwaukee they sent back their horses and arrived at Sheboygan late Saturday night, drenched to the skin. They found affairs somewhat promising; spent there Sunday and Monday morning, and returned across the country.

"March 12th. I preached twice on Sunday; at North Prairie, 14 miles, in the morning, and at Waterville, not far from Mr. Paddock's, in the afternoon. The day was pleasant and I enjoyed myself very much. My plan is,--

March 20. Consecrate a burying ground for the Norwegians.

March 21. Ordain Unonius in Nashotah Chapel.

March 23. Easter. Confirm at Lisbon.

March 30. Confirm at Pine Lake.

April 20. Mineral Point.

April 27. Dubuque, Iowa.

"Prairieville, Saturday, March 15th. I shall remain here until Monday after dinner--Monday in Holy Week. I had three full services yesterday, and the Holy Communion; one of the services was at the Forest, four miles off. After prayers to-day at 9, I start with the two students who were with me yesterday, for Nashotah.

"Nashotah, March 18th. Yesterday afternoon about 3, Mrs. Hull (the widow of the fiev. L. B. Hull of Milwaukee), her daughter, and one or two friends besides, arrived with the remains of Mr. Hull and her daughter Hannah, to be interred in our grounds. They started at 6 in the morning, broke down once, and must have suffered much from the cold. I read the service and they started at near sunset, intending to spend the night at Prairie Village. I preached this afternoon at a school house near Ottawa. Tomorrow Breck and I go to a Norwegian settlement, where I am to consecrate a burying ground.

"March 25th. Thursday we went to the Norwegian settlement on the Ashpen, 11 miles from Nashotah; at Pine Lake we took in Mr. and Mrs. Unonius, and Mr. Fribert, the Dane. The road was very rough, for it was new and it was through thick woods. As it was noon by the time we were ready for service; we began with the ante-Communion service, Mr. Unonius reading the Lord's Prayer, the Collect, Epistles, Gospel and Creed in Swedish, if then preached and Unonius interpreted. We then walked half a mile to the burying ground, which I consecrated. On our return to the house we had a good dinner, and by hard driving we reached home by sunset, and at 8 the Mission family assembled at the Holy Communion. (It was Thursday in Holy Week.) On Good Friday I officiated at Nashotah in the morning, and at Oconomowoc at night. As it was after 10 when we returned from O., and we were nearly fagged out, it was agreed that the first bell next morning should be rung at 6, when we had an appropriate service, consisting of the Lesser Litany, the Good Friday Psalms, Collects, etc. Soon after breakfast we started for Mr. Case's, which we reached after riding 9 miles. They have, or rather will have when it is finished, quite a palace of a log honge; every thing was comfortable. B. baptized an infant and I confirmed one woman. On we went four miles further in a snow storm, to Lisbon, where I again preached and spent the night at one of the Weavers. On Easter morning I had to study out my sermon by the family fire where parents, 9 children, grandfather, etc., were assembled. At church I confirmed 6 candidates, preached and administered the Eucharist. There are now about 48 communicants belonging to this parish. I then catechised the children. Having 9 miles to go to Prairie Village, we wanted to be off immediately, but had to stop and take an Easter dinner with the other Mr. Weaver, within whose barn you will remember our worshipping. P. V. has not improved; it is constantly subject to all kinds of excitement; we had, however, a pretty good congregation. This has been his station for some time; here he and Leach kept up services during Holy Week, and Keene and Armstrong at Lisbon. Mr. Akerly has accepted the parish at Milwaukee. He has gone on to New York for his wife and hopes to be back in four weeks.

"April 4th. Last Sunday morning I preached at Summit, and then a whole wagon load of us started for Pine Lake, where Mr. Breck and I officiated as well as we could to a crowded congregation of Norwegians, scarcely one of whom understood English. Eleven young people were confirmed, and one Yankee, as they call the Americans. The Lord's Supper was administered to a considerable number, some of whom were quite aged. The house being small we were uncomfortably crowded and over-heated. There was a clergyman present from Sweden, who had received the Holy Communion from me when I last officiated at Nashotah. Unonius' papers have not yet come, and I am off on the 9th.
---
John Wesley said of the Prayer Book: "I believe there is no Liturgy in the world, either in any ancient or modern language, which breathes more of a scriptural, rational piety, than the Common Prayer of the Church of England. And though the main of it was compiled considerably more than two hundred years ago, yet is the language of it not only pure but strong and elegant in the highest degree."
---
THE NASHOTAH SCHOLIAST,
PUBLISHED BY
THE BISHOP WELLES BROTHERHOOD,
Monthly, during the Seminary Year.
ENDORSED BY THE FACULTY OF NASHOTAH.
E.S. WELLES, Editor in Chief.    J.H. SELLERS, Business Manager.
TERMS.
Fifty cents, in advance, for volume of eight numbers. Single copies, five cents to subscribers; otherwise, ten cents. Special arrangements made for extra copies. Money orders or cheques to be sent on Oconomowoc, Wis. Please do not send stamps, if avoidable. Address on business, etc., Editor of the Nashotah Scholiast, Nashotah, Waukesha Co., Wisconsin.

Entered at Nashotah P. O., Wis., as second class matter. Printed by BURLESON BROS., SUSSEX, Wis.
---
Nashotah Close and Chapel.
--"THE LORD IS RISEN!"

--Mr. J. B. Kemper, of Racine College, is home for the Easter recess.

--All lectures were suspended during Holy Week, and Easter Octave was a recess.

--Rev. Prof. T. M. Riley spends the vacation among his old parishioners at Minneapolis.

--Miss Gertie Kemper and Beth Adams are home from Kemper Hall on the Easter vacation.

--Some photographs of the interior of the Chapel were taken with all the Easter decorations.

--The anecdotes which appear in our columns from time to time have had, in many instances, quite a career.

--We expected a "Letter" from the University of the South for this issue, but it has not come in time for publication.

--On Good Friday Messrs. Williams, Lemon and Gaines sang the Reproaches previous to the beginning of the three hours' service.

--Miss Moses, of Oconomowoc, presided at the organ on Easter day, to the great pleasure and satisfaction of the large audience present.

--Dr. Adams' judgment on the merits of the "Great Find," which appears in the Easter number of the Churchman, will certainly have great weight.

--Mr. McKim sent as his subscription, a Japanese fifty sen scrip, a curious, but in its way beautiful bit of money. He also sent kind wishes to us all.

--We feel especially indebted to the Priest who wrote the review of Dr. Ewer's sermons, which may be found elsewhere. To our mind it is one of the best, if not the best, that has yet appeared.

--The SCHOLIAST wishes its friends a joyous Easter tide. As is seen, we have enlarged some pages. We hope in the next number to give our patrons a likeness of the Founders as they looked in 1841.

--It is with an universal tongue that we say we regret the departure from Cedarly of Miss Mary Kemper to assume the duties of a governess at Elkhart, Ill. The SCHOLIAST wishes her joy and success in her new life.

--During the burning over of the lawns on Saturday, the 5th inst., the fire for a time got beyond control. It was amusing when the alarm bell struck, to see one grave Professor n cassock, with broom over his shoulders, hastening to fight the flames.

--Perhaps it is only fair to give the other side of the story and show how our friends write when deprived of the SCHOLIAST:

"WOLFE HALL.

No more the SCHOLIAST we view;
The reason we demand of you;
If none's forthcoming we must SUE."

--Rev. Dr. Kemper has been indefatigable luring Lent in his labors at Zion Church, Oconomowoc. During Holy week he rode from Nashotah there, held his services, and was n his stall at Chapel for even-song. The mantle of Christ-like zeal of the great one gone before, rests on a worthy son's shoulders.

--The service commemorative of the three hours of agony while our blessed Lord hung on the cross, was conducted by the Rev. Professor Riley. The deep gloom of the chapel, with the black drapings of altar and reredos, the softly chanted hymns, and the deeply impressive voice of the good priest, will remain long in the memory of those who spent those three sad hours at the foot of the cross.

--Easter Eve solemn even-song was sung. The altar was radiant with its glittering tapers, and sweet with the incense of earth's fairest flowers. The Rev. Deacon Pray, who has had the direction in charge, deserves great praise for his success on that Queen of Festivals, The services Easter day were as follows: Low celebration, at 7; high celebration, matins and Litany at 10; even-song at 5.

--Rev. Prof. Gold delivered the closing lectures of his course on Liturgies, during Passion Week. We have not space to review the lectures, but the high appreciation they have received will be best seen in the earnest request of professors and students for their early publication. In Mr. Gold's five lectures we received volumes of knowledge on the subject treated, especially in connection with the those on the first prayer book of Edward VI.

--Easter day was celebrated at St. John Chrysostom's Church, Delafield, by the following services: at 10:30 matins was said, followed by the solemn Litany and the Holy Eucharist, the Rev. Dr. Adams celebrant. At 7 in the evening, children's vespers was said by Dr. Adams, assisted by Messrs. Smythe and Sellers of the Bishop Welles Brotherhood. At the conclusion of the office Mr. S. T. Smythe presented gold medals to Master King and Miss Davis; also beautiful Bibles to Master Tinker and Miss Notbohm, of the Sunday School. Mr. Sellers received the beautiful new banners in behalf of the Sunday School, with some very happy remarks.
---
Personals.
'45. One cannot realize that for twenty years our dear old friend in Sweden has conversed with no English-speaking people except English books. We would not be forgiven if we did not publish Mr. Unonius' letter entire, as it will be thoroughly acceptable to all; the example of alumnus primus is worthy of imitation in many ways.

'47. Dr. Keene has returned from Europe and officiated at St. John's, Milwaukee, at the Easter services.

'52. Rev. E. Steele Peake has resigned his charge at Valley City, Dakota, and is now General Missionary for the Diocese under Bishop Walker.

'56. Dr. Egar's latest contribution of note is to the Church Eclectic, "The Feast of the Transfiguration the Church Kalendars."

'61. Rev. Wm. Dafter was too much in his work in and about Oconto, to accept the recent call to Freeport, Ill.

'64. Rev. R. F. Sweet has resigned Zion Church, Freeport, Ill., to take duties at Rock Island. The SCHOLIAST prays that his health may be improved by the change.

'73. Rev. and Mrs. E. R. Ward have just gone to Hot Springs, Ark. Mrs. Ward writes that the trip was an easy one and she hopes (as do we all most sincerely), that her husband may receive real benefit from the treatment.

'77. "The Orphanage Record" from East Providence gives a slight insight into the work the Rev. D. J. Odell is doing for "his children."

'79. In another column will be found an interesting letter on Buddhism. Coming from one whom we all know of, and at least "who knows whereof he affirms" it will have an especial value. Dr. Adams kindly referred us to a supplementary note, which is also given.

'84. Rev. J. B. Williams has been taking Sunday duties at Whitewater, Wis. If they succeed in keeping him permanently, (as we can readily understand they wish to do) the parish and diocese will have a real acquisition.
---
Church Schools and Colleges.
It is intended to render this section of The Scholiast valuable by publishing "budgets" from St. Augustine's, Canterbury, and all the theological schools in the land which are in communion with the Church. By issuing each month letters from some one of our Seminaries it will be happily practicable to get a general knowledge, and interest in all our institutions. Indeed, one can readily imagine the good resulting from a realization of our earnest wish in this matter. We anticipate kindly co-operation in our endeavor.

MISSIONARY COLLEGE OF ST. AUGUSTINE.--We were much interested in hearing something of this noble institution from one who was recently in California and visited Benecia. Bishop Wingfield, it seems, is striving with marked energy to make St. Augustine's what its founder and our founder, James Lloyd Breck, intended it to be, a real power for the Church in that growing diocese where much missionary work remains to be done.

In his efforts the Bishop is ably seconded by his wife, whom all are said to recognize as a mother to the boys. Present difficulties and discouragements will be more than rewarded when the good prelate beholds the fruit of his labors in noble young Christians. For he seems to realize, as did Dr. Breck, that lasting work must begin with the children, "who--trained in the nurture and admonition of the Lord," will be the future hope of the Church on the Pacific.
---
Anecdotes
Bishop Horatio Potter rather distressed some of his clergy a year or so ago by wearing an unbecoming pair of shoes. Finally two or three of the older priests of the Diocese, relying on long and intimate acquaintance, ventured to remonstrate with the good prelate. "Well gentlemen," said the Bishop, looking meditatively at the articles in question, "perhaps what you say is true, but still I think I know a number of people who would'nt mind stepping right into them."

A well known priest is authority for this: Pompey, a good old southern darkey, was always on hand to greet and care for Bishop Meade when he visited ------. The Bishop missed him one time, however, and saw nothing of him though in the vicinity for some days, till, just as he was driving off, he spied Pompey across the field and hailed him. The old fellow paced along with a rather determined face ready for the question he knew was coming. "Why, Pompey, where in the world have you kept yourself all the time? You've not been in church, or--" "Wall now, Massa Bishop, I jus' tell you. Don't belong to your church no more. I'se joined de Baptis'." "Joined the Baptists" said the horrified prelate, "What made you do that?" 'Wall, Massa Bishop, I tell you. In your church it's workin1 and a-prayin', and prayin' and a-workin' all de time. But in de Baptis' it's one dip and all over."

Dr.---, a classmate and dear friend of Dr. deKoven, when once dining at the College on "pie day" enjoyed that desert for which Racine was justly famed, and unwittingly asked for more. Immediately the great bell was lapped and two hundred faces turned toward the Warden.! "Boys," said he, "I have something awful to tell you." There was ominous silence, and he continued with great solemnity, "One of our Trustees has broken the rule and asked for a second piece of apple pie! What shall we do?" "Give it to him" piped a little voice from the G. S. to the intense amusement of all.

Bishop Hobart once held an argument with a young student of divinity, urging him to adopt extemporaneous preaching, closing his philippic against the reading of sermons, by the following apologue:

"A steward once complained to his lord that the servants of the household were disobedient and disrespectful to him. His lord directed him to assemble them in the great hall, and sharply to rebuke them in his presence. They were assembled accordingly, when the steward drawing forth from his pocket a written paper, proceeded gravely to read therein, in a monotonous tone of voice, the prescribed rebuke. The servants looked, listened, smiled and retired, and, strange to tell, were disobedient and disrespectful as before."
---
The Evangelical Alliance and the Church of Sweden.

We have received the following from our correspondent in Sweden. It will he seen that it contains some very interesting details not hitherto published in our Church papers:

"It has been proposed by the Evangelical Alliance, particularly by the section in England, that a so-called general conference of said association should meet in Stockholm this year. Notwithstanding several prominent and competent persons in Sweden earnestly and repeatedly have endeavored to prevent and dissuade them from carrying out this proposition, still the section in England would by no means yield to their remonstrances, but has eagerly labored and urged that the contemplated conference should this summer assemble in the capital of Sweden. This has called forth the following declaration signed by all bishops of the Swedish Church, and by the professors of the theological faculties of the universities of Upsala and Lund, and intended by them to be published in various foreign periodicals.
DECLARATION.
1. In consequence of existing circumstances, we, the undersigned, beg to declare that on account of the peculiar relations within our Church, especially with respect to the position which certain dissenters assume towards the Church, we consider it particularly unseasonable for the Evangelical Alliance at the present time to summon a general conference at Stockholm.

2. That if such a conference should take place during the present year, we, for our part, decline partaking in it.

3. That we are sure that our conviction and position in this matter are those of a very large majority of the Swedish clergy."--P. Sjobving, Bishop of Kalmar; G. A. Anjou, Bishop of Wisby; C. A, Torin, C, A. Cornelius, Martin Johansson, H. K. Gerzelius von Schiele, U. R. F. Sundelm, C. J. Nowly, Professors of Theology at the University of Upsala; C. Olbers, U. Warholm, A. G. L. Billing, M. G. Rosenius, P. G. Ekland, Professors of Theology at the University of Lund.

Another Bishop, Dr. Landgren, of the Diocese of Hernosand, a true pillar of the Church in Sweden, though he has approved and signed the above declaration, has done so with an explanation which he desires to make known at at this time, viz., that he would have preferred that said declaration had been drawn up and expressed in these words:

"When the Evangelical Alliance was organized in the year of our Lord, 1840, several prominent members of our Church hailed it in the hope that it would be a means of elevating the spiritual power of life in evangelical Christendom, as well against the papacy as against sectarianism. But it has since then become very manifest that on the contrary the Alliance has chiefly served to make room and opportunity for the sects to rend into pieces the visible Church of God in Sweden. And for this reason it is hereby declared by the Bishops of the Church in Sweden, that the members of the Swedish Church neither can nor will attend the contemplated general conference in Stockholm next fall."
---
Shintoism and Buddhism.
To have an intelligent appreciation of missionary work in Japan, one should know something of the religious systems which Christianity is to supplant.

The two great isms in Japan are Shintoism and Buddhism. Shintoism is the state religion. It is a polytheism somewhat resembling the cultus of the ancient Greeks. In it every mountain, valley and stream has its guardian deity, to whom temples are erected. The worship of the elements of nature and the heavenly bodies finds a place in this system. It has also its Walhalla, in which all the Mikados and great warriors have a place. This system has no literature worthy of the name, and no definite theology. It has no real hold as a religion upon the people except when it is mixed with a little Buddhistic teaching.

I think I am safe in saying that eight-tenths of the Japanese are nominally Buddhists, and the remainder Atheists, Confucionists and Christians.

Buddhism in Japan is represented by twelve sects. Of these the strongest and most progressive is the one called Shin Shee or true sect. A short sketch of this sect may not be uninteresting at this time when Buddhism seems to be attracting considerable attention, and when a wrong impression concerning it may be gathered from Arnold's Light of Asia.

The Shin Shee sect was founded in the 13th century by a priest named Shindra. He was a learned man for his time, and possessed a keen insight into human nature. He came to the conclusion that the laws of Shakya Fumi (the founder of Buddhism) were too strict to be enforced upon all men. He said: "It is a greater sin for one to be continually coveting things forbidden than it is for him to gratify his appetites. I will set all men an example." No sooner said than done. Celibacy was exacted of all priests; he married the daughter of the then prime minister. Fish was denied to all Buddhists; he ate of "the forbidden fruit."

This departure from the rule of Shakya naturally created quite a religious revolution, and Shindra soon had many followers.

The distinguishing tenets of this sect are these; it does not require priests to live the monastic life; it does not enforce pilgrimages, fasting or penance. It teaches the worship of Amidha Buddha only; its followers are tanght that they are justified not by works, hut in the "great desire" of Amidha Buddha to help and influence all people who rely upon him, to complete all merits, and to be reborn in paradise (Nirvana). If the convert to Shin Shee confesses himself a sinner and prays Amidha to have mercy upon him, he is taught that because of this one aspiration his future happiness is assured; no more prayers are needed but thanks are to be offered continually to Amidha for his mercy.

The high priests of this sect are supposed to be descendants of Shindran. In the time of of Hideyrshi (Japan's most famous warrior) this sect built in Kujoto the temple called Nishi Hm Guwarji, the finest temple in Japan. They are now rebuilding a large temple, which was burned several years ago, at an estimated cost of 700,000 yen, equal at present rates to about $600,000.

They have also built in Kujoto after a foreign model, a fine theological school, costing more than $100,000.

This is the most liberal and enlightened of all the Buddhist sects, yet some of its followers are so superstitious as to drink the water in which the priests have bathed, thinking they derive virtue from it.

The center of this worship is Amidha Buddha. How does this Amidha compare with the God of the Christian?

1. Amidha Buddha is not a creator. In Buddhism there is no such thing as creation. Matter is eternal.

2. Amidha Buddha, it is true, has existed from all eternity, but so, also, have all men and other sentient beings; and although Amidha has existed from all eternity he has not so existed as a Buddha. In a previous world, ages ago, there was a time when Amidha was not a Buddha, but was a man with a body of flesh; only after long ages of self discipline did he attain that position becoming the first and chief of all the Buddhas. Amidha Buddha then, unlike the God of the Bible, is not immutable.

3. Amidha Buddha is not the preserver of all things. As the universe has existed from all eternity, existing while Amidha was yet a. mere man, it needs no preserver.

4. Amidha Buddha is not omnipotent. The Shin Shee sect forbids all prayers for happiness in this life, even to Amidha, because, say they, the events of this life cannot be altered by the power of others.

5. Amidha is not a punisher of sin.

6. Amidha is not the only Buddha; he is but the chief among many Buddhas.

7. The Shin Shee sect does not preserve the personality of Amidha. While there is great happiness in Nirvana there is no longer the distinctions of I and Thou.

A careful examination of Buddhistic teaching will, I think, make it clear to any one that i is nothing more nor less than atheistic. It knows no God.

Its great hold upon the people arises from the fact that it teaches the all absorbing love for man of one who was himself once man, but who through ages of self-discipline has freed himself from the thralldom of matter, and is willing and desirous to help others.

JOHN McKIM.
NOTE.
"The Buddhism of Japan, in having a visible representative of Gotama, possessed of unlimited power, resembles that of Thibet. There is another resemblance in the fact, that as in Thibet the four sects there existent are supposed to have had their origin from men of four different castes, so in Japan it is supposed that the four first pontiffs, after the death of Gotama, belonged to the four great castes of India in their regular order. The legends known to the Japanese evince that the historical portions of their sacred records have been derived from the same sources as the Buddhism of Ceylon, and the continental nations professing the same faith; but beyond this I have no means of ascertaining the identity of their respective tenets. The palace of the davi, or supreme pontiff, in the spiritual metropolis of Miako, is said to form in itself a town of considerable size. The temples are extra mural, being built upon eminences that command the most delightful prospects. In the largest, called the temple of Dai Bud, or the Great Buddha, resting on ninety-six columns, there is a gilt statue of the sage, of the usual form and appearance, but so immensely large, that according to the Japanese, "six persons can squat, without inconvenience, on the palm of his hand," and his shoulders reach from pillar to pillar, a space measuring from 30 to 32 feet.--Hardy's Eastern Monarchism.
---
Book Reviews.
"SANCTITY AND OTHER SERMONS, BY THE REV. FERDINAND C. EWER, S.T.D."
The volume bearing the above title now lies before us. It contains 26 sermons by its lamented author, prefaced by an "Introduction" by the Bishop of Springfield, and a "Memoir" by Mr. Charles T. Congdon. The book is admirably printed on the best paper, and in its general make-up is a model of good taste. Bishop Seymour's "Introduction" deals with the providential work of Dr. Ewer; Mr. Congdon's "Memoir," with his providential training for that work.

We do not feel that it would be becoming in a paper published by students only, to express any opinion upon the special merits of the questions notably associated with Dr. Ewer's name and his controversial career. It is open to us, however, to admire his bravery and self-forgetfulness, his courage and piety, which so greatly characterized him. Time alone can determine the place and influence of Dr. Ewer in the history of the American Church; the present, however, can appreciate the story of his life, his trials, his character.

His sermons, as published, reveal much of the mind and spirit of their revered author. They have flashes of his genius, his insight, his eloquence of statement. They evince much, also, of his cast of mind, his reading, his acquirements. They indicate, also, the practical spirit in which he dealt with such subjects as "Sanctity" and "Perfection," which he handles with a clear grasp of their subjects, and yet in a measured and practical spirit. Such observations as the following illustrate this: "Sanctity is not only something that is solid and cough; it is also something that is thorough, * * Its seat is at the inmost springs of our being. Being thus not only solid and real and hardy and also interior, there is an element n it of concealment. It is like all great things--its greatness is at first veiled. It is like Mont Blanc; you must go away from it if you would realize how great it is. * * * Sanctity never poses; it does not strut, it does not affect a character; all it seeks is to be a charter. * * * Sanctity is something of solid workable, practicable virtues."

So in his sermon on "Perfection" the same practical sense is evident. "Each one has a perfection befitting his powers, and in accordance with his position and opportunity; his weaknesses and advantages. * *. * God does not call you to that which would be perfection for me; nor me to your kind of perfection. God calls no one to a higher kind of perfection than belongs to him. * * * Each, then, must seek the perfection of his own state of life."

Notwithstanding this measured presentation of "Sanctity" and "Perfection," Dr. Ewer was not unconscious or indifferent to the value and the force of the highest paths of ascetic piety. His sermon on "The Ascetic Life" demonstrates this, and utters many truths our age needs to hear.

Others of his sermons indicate the interest of Dr. Ewer's mind in nature and its interpretation. 'He was evidently not indifferent to the proper claims of the scientific understanding, and in his sermons on "The Earth in Connection with Easter" and "The Return of Matter to God," he says many suggestive things looking in that direction. His last three sermons on "The Great Offer of Christianity," and "Theoretical and Practical Atheism," enshrine very valuable thoughts. His interpretation of "eternal life" in the first of these, is suggestive. Certain sentences remain with one: "There could be no bliss in a stagnant heaven. There can only be eternal happiness in eternal variety. * * The proffer of Christianity is eternal life, not eternal stagnation." In his last two sermons, "Atheists of. the heart" are forcibly distinguished from "Atheists of the head," and some prophetic words are spoken respecting what is coming upon the world and society, through the "Atheism of the heart," which it would be well our age should take heed to. Yet Dr. Ewer does not fail to say, "But let us not be pessimists. There is a spirit abroad that cries down the present, and exalts and looks to a Utopia in the past. The great Sun of Christianity cannot have been rising and rising ever higher in the heavens, and shining for hundreds of years upon our earth, without warming and enlightening, ripening and improving."

It must be said on the other hand that making every grateful acknowledgement of the very many good and precious things contained in this volume from which we have made the above quotations, the Sermons as a whole do not reveal Dr. Ewer at his best in a literary way. Some of the sermons are given from recollection--none probably were prepared by Dr. Ewer for publication. They are sketchy rather than exhaustive, as a rule; preached within the limit of a few moments, possibly for persons and purposes having immediate needs, rather than, for the masses of people at any and all times.

Here and there, there is an occasional obscurity of style, with in one or two instances, slight historical slips. All these circumstances affect the literary value of these otherwise admirable sermons.

They will have an abiding value as the unbosoming of a remarkable man,--remarkable in the providential training and mission of his life, remarkable in his versatility--remarkable in his attainments in the science and practice of holy living. As such they will be prized by all who knew Dr. Ewer, and who for the sake of their moral and spiritual value, will condone anything of haste, any other literary fault noticeable in the form in which they have been given to the world.
---
Letter from Rev. G. Unonius.
GRISSLEHAMN, MARCH 7,1884.
Mr. E. S. Welles, Nashotah,

My Dear Sir:

Please excuse me for having so long deferred to acknowledge the receipt of your kind letter and of the two first numbers of the SCHOLIAST. Besides being much occupied, the bereavement of a son of mine, and other family matters have distracted my mind, and I have also of late suffered from an illness, from which I am not yet quite recovered. Now receive my most hearty thanks for jour letter, and also for the SCHOLIAST. What a host of dear, holy reminiscences have not these rolled up before my eyes! And to find that I was still as it were living among the brethren of Nashotah as an old tradition
pages 11-12 missing
---
Project Canterbury