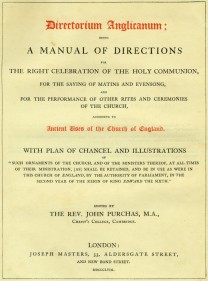 click on image above for a larger version
Directorium Anglicanum;
BEING
A MANUAL OF DIRECTIONS
FOR
THE RIGHT CELEBRATION OF THE HOLY COMMUNION,
FOR THE SAYING OF MATINS AND EVENSONG,
AND
FOR THE PERFORMANCE OF OTHER RITES AND CEREMONIES
OF THE CHURCH,
ACCORDING TO
Ancient Uses of the Church of England
WITH PLAN OF CHANCEL AND ILLUSTRATIONS
OF
"SUCH ORNAMENTS OF THE CHURCH, AND OF THE MINISTERS THEREOF, AT ALL TIMES
OF THEIR MINISTRATION, (AS) SHALL BE RETAINED, AND BE IN USE AS WERE IN
THIS CHURCH OF ENGLAND, BY THE AUTHORITY OF PARLIAMENT, IN THE
SECOND YEAR OF THE REIGN OF KING EDWARD THE SIXTH."
EDITED BY
THE REV. JOHN PURCHAS, M.A.,
CHRIST'S COLLEGE, CAMBRIDGE.
LONDON:
JOSEPH MASTERS, 33, ALDERSGATE STREET,
AND NEW BOND STREET.
MDCCCXVIII.