Project Canterbury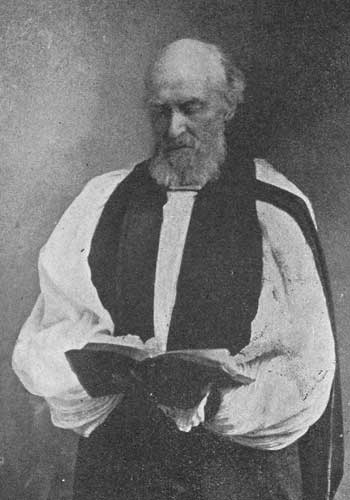 William Carpenter Bompas
1834-1906
---
An Apostle of the North: Memoirs of the Right Reverend William Carpenter Bompas, D.D.
By H.A. Cody.
London: Seeley, 1908.

Bishop Bompas of the Frozen North: The Adventurous Life Story of a Brave and Self-denying missionary amongst the Red Indians and Eskimos of the Great North-west.
By Nigel B. M. Grahame.
London: Seeley, Service & Co., 1925.

Tom Tiddler's Ground: William and Charlotte Bompas of the Arctic.
By Mary Entwistle.
New York: Friendship Press, 1948.

God's Arctic Adventurer: The Story of William Bompas.
By Constance Savery.
Guildford: Lutterworth Press, 1973.

"In Journeyings Often:" Glimpses of the Life of Bishop Bompas.
By the Rt. Rev. A. H. Sovereign, D.D., Bishop of Athabasca.
Toronto: Issued by the Joint Committee on Summer Schools and Institutes of a Church of England in Canada, no date.
---
Tidings from the Youcon.
[Digest of reports by William West Kirkby, William Carpenter Bompas, and Robert McDonald]
From Church Missionary Intelligencer, 1867, pages 144-152.

Great Bear Lake.
From Church Missionary Intelligencer, September, 1867, pages 275-277.

Manual of Devotion in the Beaver Indian Dialect.
London: Society for Promoting Christian Knowledge, 1880.

The Four Gospels Translated into the Slavé Language for the Indians of North-West America.
London: British and Foreign Bible Society, 1883.

Owindia: A True Tale of the Mackenzie River Indians, North-West America.
By Charlotte Selina Bompas
London: Wells Gardner, Darton & Co., 1886.

Diocese of Mackenzie River.
London: Society for Promoting Christian Knowledge, 1888. [External link]

The Acts of the Apostles and the Epistles, Translated into the Tenni or Slavé Language, for Indians of Mackenzie River, North-West Canada.
London: British and Foreign Bible Society, 1891.

Lessons and Prayers in the Tenni or Slavi Language of the Indians of Mackenzie River in the North-West Territory of Canada.
London: Society for Promoting Christian Knowledge, 1892. [External link]

Cree Primer.
London: Society for Promoting Christian Knowlege, 1893.

The Symmetry of Scripture.
New York: James Pott, 1896.

The Second Letter of Baruch (a Translation from the Syriac).
Winnipeg: R.D. Richardson, 1898.

Northern Lights on the Bible Drawn from a Bishop's Experience during Twenty-five Years in the Great North-west.
London: J. Nisbet, [External link]
---