סדר תפלת השהר הערב
Seder tefilot ha-shahar veha-erev
דיא ארדנונג דער מארגען אונד אבענד געבעטע דאס גאנצע יאהר
דער קריסטליכען קירכע פאן ענגלאנד אונד אירלאנד
Di ordnung der morgen und abend gebete fir das gantse yahr velkhe gebroykht verden in der Kristlikhen kirkhe fun England und Irland.
London: Gedrukt in der Yahr fun dem Moshiach, 1893.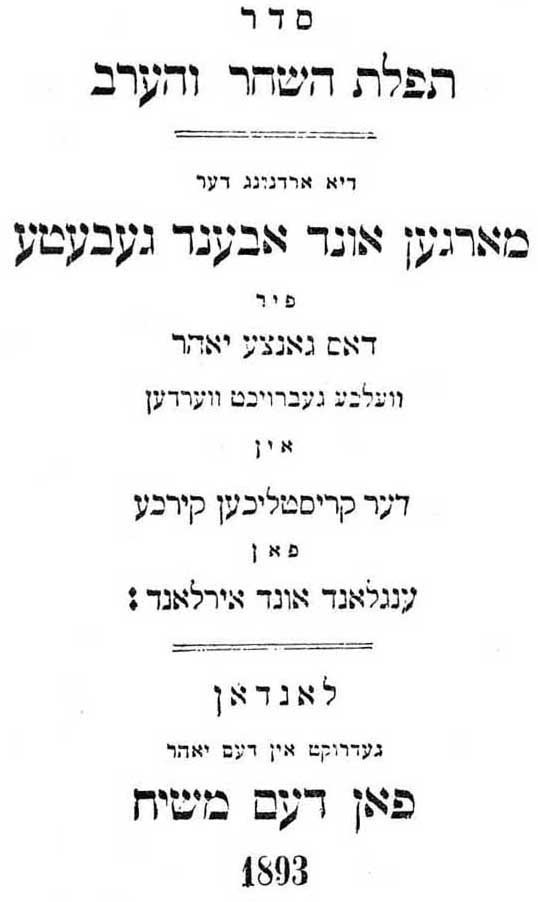 Download in portable document format.
---
This Yiddish translation of Morning Prayer and Evening Prayer from the 1662 Book of Common Prayer is not mentioned in any Anglican liturgical bibliography. It was published in London, likely for the London Society for Promoting Christianity Amongst the Jews.

The title of the entire work, along with the internal titles for Morning Prayer (1-20) and Evening Prayer (21-35), use traditional Hebrew names for the corresponding Jewish liturgical services (Shacharit and Arvit) in addition to Yiddish equivalents. The rubrics are printed without vowels, but the prayers include them. The people's parts are indicated by the Hebrew term (קהל) for congregation. There are occasional Hebrew parenthetical explanations, such as (רוּחַ הַקֹּדֶשׁ, ruach hakodesh) when the Prayer Book mentions the Holy Ghost as heylikhe geyste.

This text was digitized in June 2017 by Richard Mammana.
---